7 Bible Verses About Self-Esteem For Teenage Girls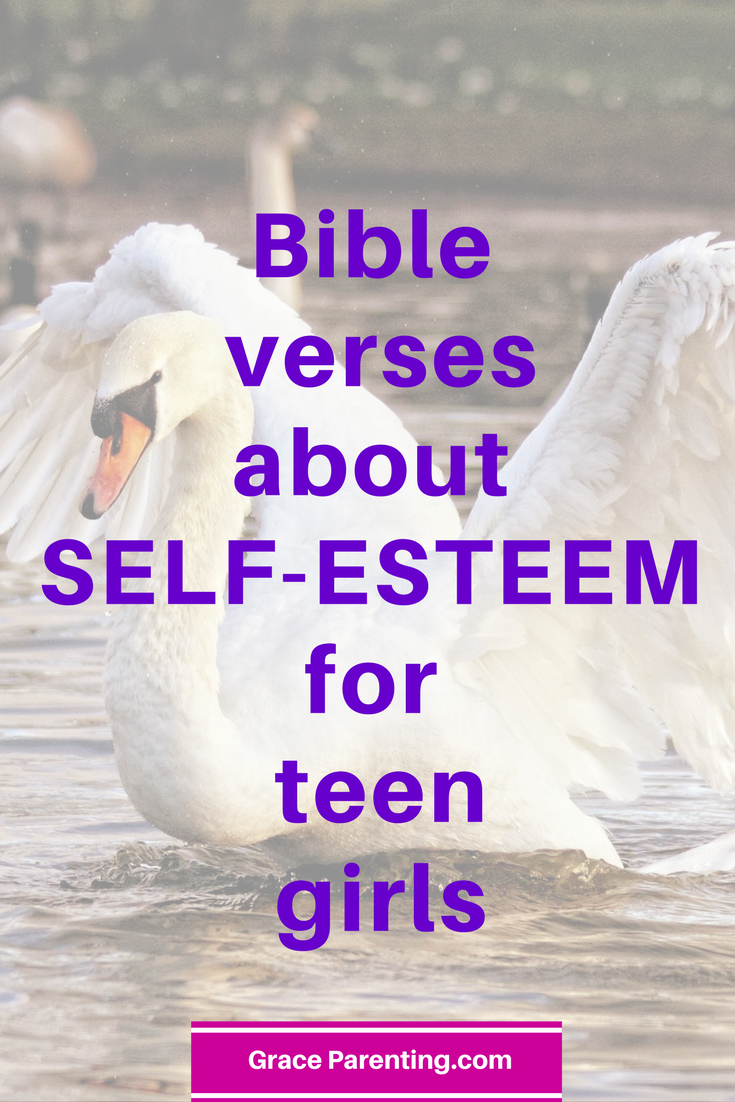 Build your  teenage daughter's self-esteem in the Lord.
 Only He can give her real confidence!  

 Self-Esteem Scriptures
---
1 - Thank you for making me so wonderfully complex! Your workmanship is marvelous - how well I know it  (Psalm 139:14)
---
2 - For we are God's masterpiece. He has created us anew in Christ Jesus, so we can do the good things he planned for us long ago.  (Ephesian 2:10)
---
3- Even before he made the world, God loved us and chose us in Christ to be holy and without fault in his eyes. (Ephesian 1:4)
---
4 - So God created human beings in his own image. In the image of God he created them; male and female he created them.  (Genesis 1:27)
---
5 - And I will be your Father, and you will be my sons and daughters, says the Lord Almighty.  (2 Corinthians 6:18)
---
6 - Think about the things of heaven, not the things of earth.  (Colossians 3:2)
---
7 - So let us come boldly to the throne of our gracious God. There we will receive his mercy, and we will find grace to help us when we need it most.  (Hebrew 4:16)
---

7 Easy Tips to Improve Your Teens Self-Esteem
Watching your teenage daughter struggle with low self-stem can be heartbreaking because ,you know how amazing she truly is, and just how much the Lord loves her.  You know that if, she could only know how much she is loved and adored, this would not be such a struggle for her.  I've made a list below of some simple idea's for you to help boost her level of self-esteem  and help her to understand how much she is loved by her King.
 Copy bible verses onto sticky notes and leave them on the bathroom mirror for her to see everyday.
 Get a journal for your daughter to write her thoughts in.  And, to write personal notes to Jesus about her feelings and prayer requests.
 Keep a two way conversation at the dinner table.  Let your daughter know that what she has to say is valuable to you.
 Teach her how to think, not what to think.  For example, ask how she would she handle certain situations, or compare and contrast situation to biblical stories.  Make sure you don't pass judgement on her opinions, and be loving to her responses, even if you don't agree with them.  Simply teach her what the bible says, then pray in your own prayer closet if you know her thoughts don't line up with God's word.  Pray for him to reveal the truth to her.  It will be so much more powerful then trying to drill it in her head.
Teach your daughter to decern negative inner voices, and give her bible verses to fight back against negative thoughts.  This is where open communication is key.  Talk to your daughter, ask her questions, and keep your ears open to clue words she might be saying.
  Encourage your daughter to volunteer.  She will  begin to see what she does makes a difference and help to build her confidence and a sense of self worth.
 Set a good example of what it means to have a good self-esteem.  No more saying you need to lose weight, and stop counting your fine lines mom!  At least, not in font of your daughter:)
Start bible art journaling with your daughter.  Make it a mom and daughter time.   You two can spend quality time together in the act of worshiping the Lord through art.  You'll would be surprised what kind of great conversations could come out of that activity.
This is such a huge struggle for teen girls and tween girls.  The struggle is real!  Image is are no longer just judged by the handful of people you know but, know a person's image can go viral for the whole world to judge.  If you have any suggestions that you could share with other struggling mom's please, do share them with us.  Let's work together to help all our sister's in Christ no matter what the age.
More Bible Verse Topic's To Help With Self-Esteem
---