---
---
9 Bible Verses About Prayer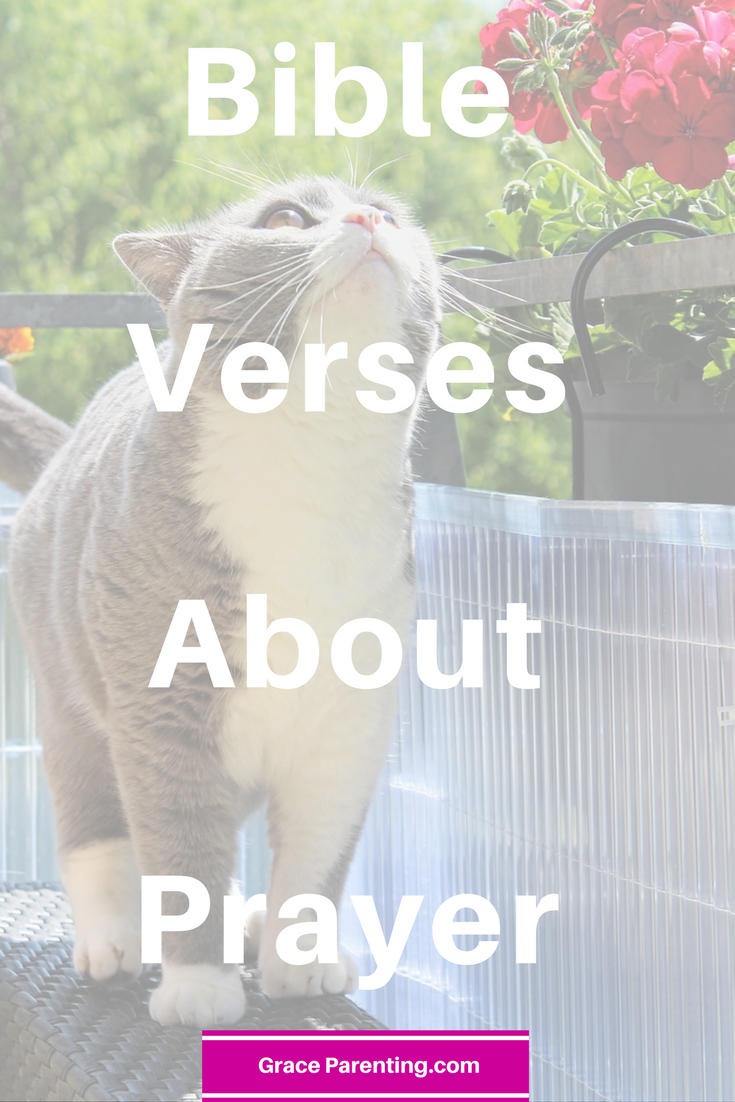 Easy Prayer Scriptures
1:  You can pray for anything, and if you have faith, you will receive it.  (Matthew 21:22)
2:  Confess your sins to each other and pray for each other so that you may be healed. The earnest prayer of a righteous person has great power and produces wonderful results.  (James 5:16)
3:  But when you pray, go away by yourself, shut the door behind you, and pray to your Father in private. Then your Father, who sees everything, will reward you.  (Matthew 6:6) 
4:  The eyes of the Lord watch over those who do right, and his ears are open to their prayers. But the Lord turns his face against those who do evil.  (1 Peter 3:12)
5:  You can ask for anything in my name, and I will do it, so that the Son can bring glory to the Father.  (John 14:13)
6:  The Lord is far from the wicked, but he hears the prayers of the righteous.  (Probers 15:29) 
7:  In those days when you pray, I will listen. If you look for me wholeheartedly, you will find me.  (Jeremiah 29:12) 
8:  I will answer them before they even call to me. While they are still talking about their needs, I will go ahead and answer their prayers!  (Isaiah 65:24)
9:  Never stop praying.  (1 Thessalonians 5:17) 
Dear Lord,

Please, please, please, here my prayer.... please forgive me, I couldn't help myself.  The garbage just smelled so good and, the neighbours cat, well you already know how I feel about that supper clean and always  sooooo  perfect feline.  Lord, please,  help me change and if you could get my owner to give me a little of her dinner, well, I would be forever grateful!

Your most beloved dog,

Amen

---

---
The Enemy Has Picked Up His Game & You Should Too!
If you haven't already notice that the devil has pick up his game when it comes to our kids, then let me tell you today.  Your kid's enemy has picked up his game in the fight for their soul.  He is throwing everything he's got, I think, at this generation like he's never done before.  That doesn't make me suspicious about what time it is on God's calendar at all Mr. wolf!  
You know what that means.  It's time to pick it up a.s.a.p. and, double time.  We are in a battle and if your like me, I intend to win.  There is no way I'm going to just lay down and let the enemy take my kids!  
Some things may seen harmless but, these are just the first steps of his seduction of our kids and teens.  So how can you wage war? You now it - prayer of course.
4 Reason's Why You Should Be Praying for Your Kids!
The Lord gave me a dream of a windmill  with four blades.  Each blade was designed using a different pattern on it.  
1. The first blade was a solid panel.  This solid blade represents parents who are always protected by the armor of God and didn't let any winds of the enemy get to their children.
2. The second blade was made out of thick striped panels with small spaces between the lines.  This represents parents who have the armor of God on regularly but, had small lapses of time not fully protected.  Letting small slices of wind from the enemy to blow onto their children.
3. The third blade was created out of a checkered pattern panel leaving the centre of each square empty so, that you could see through them.  The checkered windmill blade represents parents who have large wholes in their own armour.   Which, allows for a constant breeze on their children lives from the enemy.
4. The fourth windmill blade was framed around the edges, but empty in the entire middle so, you could see through it.The last blade represents parents who never put on the armour of God.  Resulting in their children living in a constant windstorm.
The end of my  dream
Then I seen the wind blowing which caused the windmill to move.  There were children sitting behind the windmill as the wind was blowing. Even though it was such a simple dream and the understanding of it's meaning clear, it still struck me in a powerful way.  I realized that as the windstorms of life blow against me, it can seriously effect my children too.  And, that it up to me to protect my kids through prayer and teaching them about Jesus and his word!
My experience has taught me
Change location - (Get closer to Jesus through prayer)
Figure out which way the winds are blowing - (Listening to the Holy Spirit)
Find a safe place of shelter from the wind - (Reading my bible for directions.)
Purchase warmer clothing - (Knowing Jesus has prepaid the price for all my needs.)
These are some of the things that I teach to my children but, it takes time for them to learn about Jesus.  I can't expect them to know how to react to the blowing winds of life.  That what their day and myself are for.  God has graciously put them into our care and, it's up to us to teach and protect them through prayer, and Godly parenting.  That is when were not messing the whole parenting thing up:)  Thank God is is merciful!
5 Tips to Turn Your Kids Into Prayer Warrior's.
 Monkey see, monkey do!
Let your kids see you praying.
Let your kids pray out loud and you agree with them.
Teach them what the bible say's about prayer with using the short bible verses above.
Introduce a fun prayer jar.
Pray with your kids. (Bedtime works best for us but, our kids will often hear us, or joins us in a quick prayer throughout the day.  Even if it's a quick thank you Lord for a parking spot or, a full on prayer of protection before leaving home. Our kids see that this is just the way of life for our family.)
What ever works best for your family remember, your prayers are powerful.  Just because you don't see the results you are hoping for doesn't mean you won't in the future.
So, mom and dad keep praying for your children!  And, please share any tips with us that you have about praying for your kids!