13 Bible Verses About Comfort to Help Your Kids
This little kitty looks like it's ready to fall into a relaxing dreamland!  It's, restful appearance can make you jealous if, you struggle with sleep.
Cat's can teach us how to be stress-free and confident in who we are, and what it means to trust our provider!!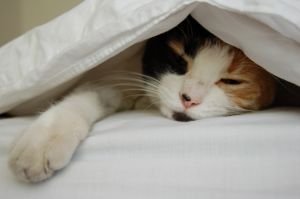 Wouldn't you love to be peaceful, warm, and very comfortable under the protection of a snow-white blanket? It's definitely, the ideal place to be at the end of a stressful day.   

No matter what your struggles are, kids not sleeping, to much to do and not enough time, stress at work, Jesus can help you.
If, we place our trust in the Lord Jesus Christ  we, too, can have this kind of comfort and peace  in our lives.
We can feel like it's heaven on earth if, we wrap ourself in his love, with speak His words over our lives.


Comfort Scriptures
1
But the Comforter, which is the Holy Ghost, whom the Father will send in my name, he shall teach you all things, and bring all things to your remembrance, whatsoever I have said unto you.
John 14:26
2
  Then Jesus said, "Come to me, all of you who are weary and carry heavy burdens, and I will give you rest."
Matthew 11:28 
3
You will keep in perfect peace all who trust in you, all whose thoughts are fixed on you!
Isaiah 26:3 NLT

4
Give all your worries and cares to God, for he cares about you.
1 Peter 5:7 

5
Even when I walk through the darkest valley, I will not be afraid, for you are close beside me.  Your rod and your staff protect and comfort me.
Psalm 23:4
6
When doubts filled my mind, your comfort gave me renewed hope and cheer.
Psalm 94:19 

7
God blesses those who mourn, for they will be comforted.
Matthew 5:4 

8
And I will pray the Father, and he shall give you another Comforter, that he may abide with you forever.
John 14:6

9
I will not leave you comfortless:  I will come to you.
John 14:18 

10
The Lord is my rock, my fortress, and my savior; my God is my rock, in whom I find protection.  He is my shield, the power that saves me, and my place of safety.
Psalm 18:2 
11
Though they stumble, they will never fall, for the Lord holds them by the hand.
Psalm 37:24 

12
The Lord is good, a strong refuge when trouble comes.  He is close to those who trust in him.
Nahum 1:7 

13
For the Lord your God is living among you.  He is a mighty Savior.  He will take delight in you with gladness.  With his love, he will calm all your fears.  He  will rejoice over you with joyful songs.
Zephaniah 3:17