Christian Crafts
Christian Crafts For Kids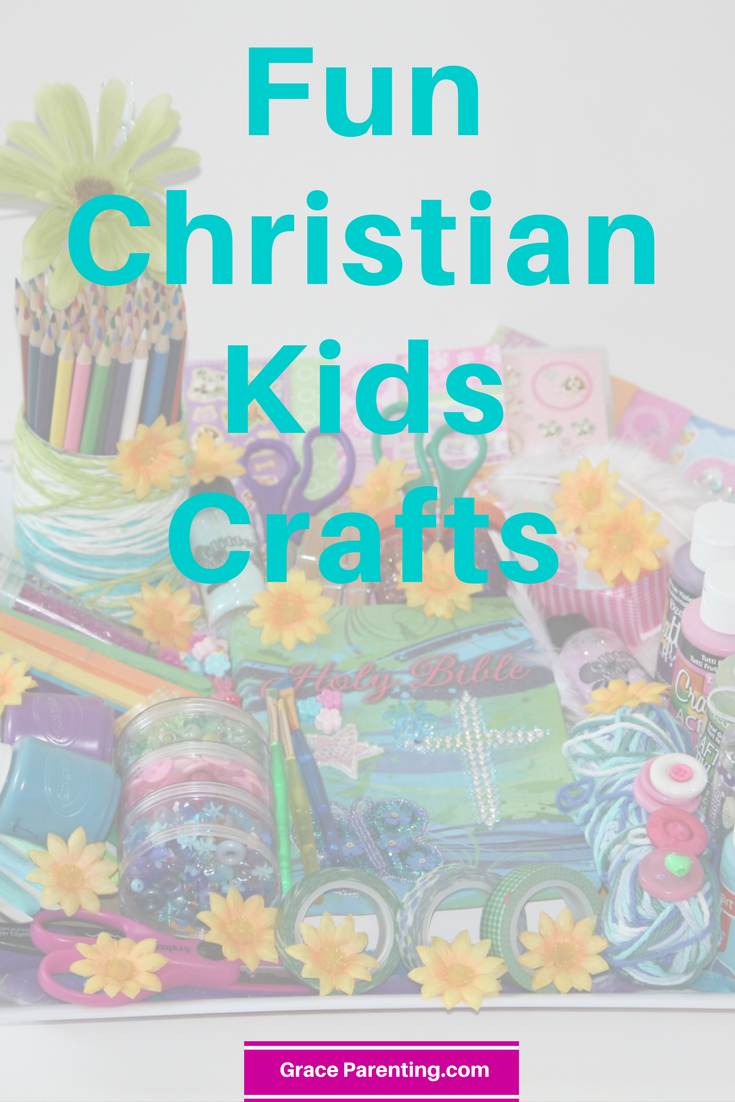 Check out these fun Christian crafts for kids of all ages.  These simple projects are great for craft-loving children.  And, quick and easy for homeschool mom's too!  So, have fun and enjoy these Christ-centred crafts.
Christian Crafts For Kids
Cross for Boys

Glue popsicle sticks together to create a cross shape.   Let the glue dry.  Next, glue on pom-pom's to your cross in an alternating pattern.  Let dry before moving.



Faith-Trust-Hope Cans

Peel off paper and clean cans.  Paint the rim's of your cans.  Then measure and cut paper to size and glue onto cans.  Lastly, glue ribbon and embellishments into place.


Angel Wings Bible Bookmarker

Draw and cut out 2 angel wings from white foam.  Then, glue a white paper clip onto the front of one of your angel wings.  Next, glue  the other angel wing over the top to secure the white paper clip inside.  Lastly, glue on a gem stone.

Ladybug Prayer Jar

Cut and glue scrapbooking paper to fit your jar.  Then decorate with ribbon and flowers.  Cut out small tags small enough to fight into your jar from your leftover scrapbooking papers.  Write a subject or a person's name that your child want's to pray for on a tag.  Put into jar, and use at prayer time.

Rainbow Cross

Fold a pipe cleaner in half and cut.  Place 1 red bead in the center while making your cross shape out of your two pieces of  pipe cleaner.  Then, continue to add your beads in rainbow order.  Lastly, fold the ends to keep your beads on your cross.

Frilly Angel

Cut out Angel shape and wings from one plate and the skirt ruffles from another plate.  Then glue the ruffles in layers.  Lastly, glue the wings to the back.

Star of David

Glue 3 popsicle sticks together to form a triangle, do the same with the another 3 sticks then glue together to form a star shape.
Cover the whole star with an assortment of yellow beads with lots of white glue!

Red Bead Cross

Fold the pipe cleaner in half and cut it.  Then twist them together to form a cross shape.  Next just add your beads.  Lastly, fold over all ends of your cross.

God Is Good Sign

Paint two popsicle stick white and one each color of the rainbow.  Put your painted popsicle sticks in a rainbow line, laying them on top of your two white popsicle sticks.  Once your happy with your sign's shape, start gluing popsicle sticks on. Then let dry. Lastly, use a black marker to write on your sign.

Paper Tissue Jesus Cross

Cut out a large cross shape from a cereal box.   Write the word Jesus where you would like it.  Then cut both white and red tissue paper into 2x2 pieces of paper. Next, roll the red tissue balls first and glue them onto the word Jesus.  Lastly, roll your white tissue into balls and glue them onto the rest of the cross.


Girls Pink Cross

Glue popsicle sticks together to form a cross, let dry.  Then paint the cross pink, let dry.  After arrange flower beads in a design you like then glue each one on.  

Scripture Frame

Place hearts in a style that you like onto a wooden picture frame.  Then glue each heart onto the wood picture frame.   Write your favorite bible verse on a paper and display inside the picture frame.




The Benefits of Making Christian Crafts With Your Kids

I've learned that by introducing bible based craft projects, at home, to my children, I not only get to see their creativity but, I also, get to talk to them about Jesus and God's word. 
I get to do a simple bible teaching while helping them do a fun Christian craft. They have learned that we don't have to wait until we pull out the bible before we talk about God.  I want them to learn that we can, and should, include Jesus into everything we do, including simple crafts.
While my kids are having fun making crafts it seems to get their brains working in overtime! Many times they like to tell me how their craft ties into a bible story.  It's so exciting to see how much they really do know about God's word.  Often times, they know much more then, I think they do.  

As well, it leads to many questions they have about the bible.  Sometime I have the answers and sometimes I don't. I often find myself saying, "That's a good question,  I don't know the answer, but I will try to find it out for you." or it's one of the crazy questions that I just have to say, "We won't know the answer to that until we get to heaven."   I'm amazed at how many times one simple craft can lead to so many different bible questions. 
While at home we have the time to answer these questions. But, if they were at church they would not be able to divert to a whole different topic, or sometimes, even be given the opportunity to ask a question.  Don't get me wrong, I love our Sunday school teacher, I've been one myself, therefor, I know how important it is to keep the class focused on the topic being taught.  That's why I believe it's so important to provide more bible teaching at home, in more relaxed environment where  my children can lead in the direction they want to go. 
I love opportunities to purposely lead my children to desire Godly fun filled activities!